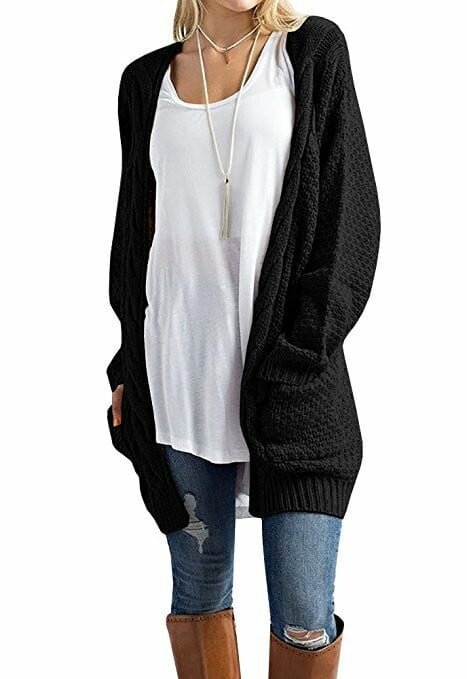 Women's Loose Open Front Long Sleeve Solid Color Knit Cardigans Sweater Blouses with Pockets
Material: 100% Acrylic.soft and comfy.
Features :Long Sleeve, Cable Knit Detailed, Stylish Style,Loose Fit, Open Front With Pockets, Fashion Oversized Sweater Cardigan, Easy To Make An Outfit This Fall And Winter.
Occasion:casual,party,home,office,dating,shopping,vacation,haiking,walking,and so on,which can help you get lots of compliments.

There are care instructions at the bottom of the page to help you care for your favorite clothes.
Care instructions:
 

Sweater washing to use neutral detergent, can not use detergent. For the fiber fabric, detergent's alkaline is too strong, the fiber is not alkali.

 Washing sweater, can not force rubbing or twisting , so as not to cause sweater deformation.Just gently rubbing.

 If the sweater dyeing fastness is good, it can be washed with warm water.

 Drying sweater, you should first use a few hangers or net bag to hanging sweater up and control dry water until its semi-dry. And then dry in the shade, so as not to deformation; sweater is best not to exposure in the sun.

 WASH INSTRUCTION: Hand Wash Recommended ; Lay Flat Dry .
Size Chart
Showcase